"I may be paying it forward by volunteering, but I also love doing it. It's an awesome experience, every time."
Pilots and Safeties
Our pilots and safeties range in age from the twenties to the seventies. Experienced cyclists, they lead active lifestyles and are in good health. Though our trikes are equipped with level one electric assist motors, they  still require pedaling. 
We ride all weekdays May through October, three-and-a-half-hour long morning and afternoon shifts. We also have frequent Saturday shifts for our Come To Us program, as well as occasional special ride events.
Portland Wheelers' rides are group rides with at least two volunteers. We refer to the group of trikes and safeties as the pod, which always stays together as a unit. 
Pilots and safeties interact with our wheelers, ride partner staff, fellow volunteers, and the public. They work together and are responsible for the care and safety of our wheelers, the trikes, and the pod.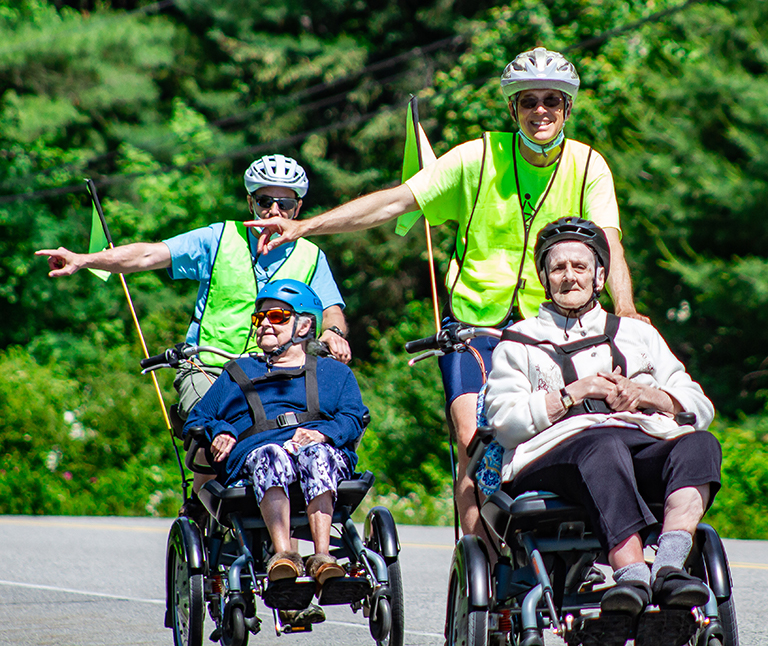 A Lead Pilot has experience with the ride site and route to lead the pod.  The lead pilot has overall responsibility for the ride. 
Pilots pedal our trikes with a wheeler passenger. Most anyone who can ride a bike can operate the trikes. With eight manual gears plus three levels of electric assist, the trikes are easy to operate. Read more about our trikes here. Though operating our electric-assist trikes properly takes some strength, it is not an opportunity for a physical workout.
Safeties ride their own bikes. They discuss the route with the lead plot and assist with the safe movement of the pod through the community. 
Generally we will do three to four rides per shift, each with different wheelers and lasting thirty to forty-five minutes. Our ride sessions take place at over thirty locations across greater Portland.

Weekday sessions are hosted at our ride partners' facilities. Weekend Come to Us sessions are hosted by CycleMania in Bayside or at other locations in the Portland area. 
Volunteers meet at the ride session location.
Volunteer pilots and safeties choose the date, time, and location of their shifts using our online scheduling tool.  
To volunteer in any role please fill out our Volunteer Application Form.
TO BECOME A PILOT OR SAFETY, A VOLUNTEER MUST:
– Be at least twenty-one years of age;
– Weigh no more than 225 pounds;
– Complete a four-hour training session;
– Satisfactorily perform all pilot-related skills; and…
– Commit to multiple half-day shifts, May through October.
Training
Pilot and Safety training takes place in the early spring before the ride season. Training sessions focus on learning how to deliver a safe, comfortable, and fun experience for our wheelers.
Sessions are four hours long and are held on select mornings and afternoons on trails and streets in the greater Portland area. Volunteers learn the fundamentals of operating the trikes, our safety guidelines, and best practices for interacting with our wheelers. Each volunteer receives a copy of our volunteer handbook and recommended readings.
Being a Portland Wheelers pilot and safety is a significant commitment with great rewards. Our wheelers will trust you and look forward to seeing you.
You will absolutely make their day, and we're certain they'll make yours too!